What is Rocky Top Sports World? Probably the most important thing to happen on Highway 321 from Gatlinburg to Cosby since the completion of GPHS.
Rocky Top Sports is a huge sports facility complex that was completed in 2014 to allow a new industry to come into our area and a whole new series of events for those of us living between Gatlinburg and Cosby to enjoy. This complex offers a dizzying array of amenities, including: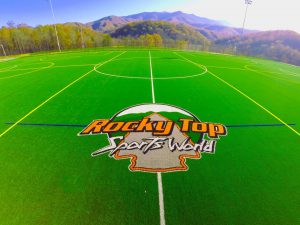 • 86,000 square foot indoor facility. Total property covers 80 acres.
• 10 basketball courts.
• 17 volleyball courts.
• 6 synthetic turf fields for soccer, lacrosse, football, ultimate frisbee and more.
• Picnic tables.
• Children's play area.
• Bleacher seating.
• Champ's Grill eatery.
• Event planning space.
And with that, dozens of different kinds of sports, tournaments and other events will be featured throughout the year!
Cosby Creek is able to offer you and your team comfortable accommodations about 20 minutes away from Rocky Top at most. Contact us today for more information.
Allow us to help you choose your Cosby Creek Cabin by calling 1-800-508-8844.